05 Nov 2013
When Hyper-V Replica fails to initialize
Enabling Hyper-V Replica is usually a no-brainer. But what if it fails to establish a replication? Weird error messages and corresponding weird event log entries don't help to debug most of times. In this blog post I'm going to go through the basics of Hyper-V Replica and the most common configuration issues which can prevent a successful replication initialization.
If you are absolutely unfamiliar with Hyper-V Replica, I recommend to carefully read the following blog posts:
http://blogs.technet.com/b/yungchou/archive/2013/01/10/hyper-v-replica-explained.aspx
http://www.microsoft.com/en-us/download/details.aspx?id=29016
Hyper-V Replica Basics in a nutshell
Replication is enabled on a per-VM base, but communication takes place on the management interface between the source and the destination Hyper-V hosts
Replication can either take place between standalone hosts, a standalone host and a cluster or between two clusters
If clusters are involved, Hyper-V Replica broker role has to be configured on the Hyper-V Cluster. The connection between source and destination then involves the broker role name and IP address. Refer to this blog post on how to configure the Hyper-V Replica Broker cluster role
Server 2012 R2 even enables multi-hop replications eg. (Site A -> Site B -> Site C)
If Kerberos is used as the authentication method, transfer is not encrypted and uses a HTTP connection (Default TCP 80) from source to destination host
If Kerberos is used, the hosts have to be joined to the same domain or must be within a trust relationship with forest-wide authentication
If certificates are used for authentication, transfer is encrypted and signed and uses a HTTPS connection (Default TCP 443)
If certificates are used, the replication can be directed via other interfaces than the management interface. See my previous post here
Common Errors
**Error Code 0x00002F78
**
**Possible root causes:
**
Firewall on either source or destination hosts don't allow HTTP resp. HTTPS connections
A proxy has been specified on system level using netsh winhttp and destination host address is not in the exclusion list
**Error Code 0x00002EFE
**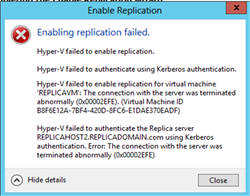 **Possible root causes:
**
Kerberos authentication fails, check DNS resolution and SPNs
If source and destination host are not in the same domain, Kerberos ticket size can be an issue. Refer to my previous post for more information
Authenticated Users or Users group does not have the permission to access the destination computer via network, check user rights assignments
Incoming replications are not enabled on the destination host / Replica Broker
Error Code 0x80004004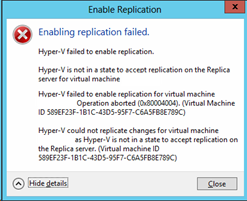 **
**
**Possible root causes:
**
A previous replication object already exists on the destination host. This mostly occurs if a previous relationship has not been cleaned up. Ensure that the destination VM does not exists and the corresponding files have been deleted from the Replica folder on the destination host

Incoming replications are not enabled on the destination host / Replica Broker

 </li> </ul>

 

**Error Code 0x80070005
**
**Possible root causes:   ** 

  * SMB share is used on destination host is used as the target directory but Kerberos constrained delegation is not properly configured. Refer to [this blog post](http://blogs.technet.com/b/virtualization/archive/2013/06/14/using-smb-shares-with-hyper-v-replica.aspx) on how it works and how to configure it correctly

 

I hope I could help with some hints to the most common errors you can run into when enabling Hyper-V Replica. However, if you find other error numbers or weird behaviors, let me know and write me an email to:  
drmiru(at)Hotmail.com. I'll then update this post.